Why Signature Advisory
I started my career in the financial services industry 31 years ago. I love this industry. While I enjoy the analytical part of the business, I love working with people. I work closely with my clients in an area that is extremely important to them: their financial futures. Evidence of my passion and commitment to this industry can be seen in my; industry involvement and commitment to ongoing education (please see Dave's Qualifications). Not only can I give you the benefit of over 30 years of experience, since I started my career immediately after obtaining an undergraduate degree from SUNY Geneseo, I also have the career longevity to help you accomplish your financial goals.
Why Signature Advisory?
I take great pride in our office's efficiency. For sixteen years, my assistant Sue Colf has done an outstanding job managing Signature Advisory. I am fortunate to be surrounded and supported by an excellent team. While we all have unique backgrounds, we all share one common goal: helping our clients define and achieve their financial goals!
Signature Advisory is affiliated with Keystone Financial Management (KFM). Keystone is comprised of a dedicated team of professionals with extensive experience in finance, insurance, and investment management. This is an invaluable resource, which helps ensure that we have the resources available to help our clients define and achieve their financial goals.
I should also point out that we are not limited to, nor are we obligated to, recommend a particular companies products or services. We have the availability of diverse offering of innovative insurance and investment products and advisory services. Your needs, not our sales, come first.
Thirtyone years of experience has taught me the value of long-term relationships. I believe that it is important for us to get to know each other ahead of time to determine if we are mutually compatible. If you are interested, I would love to have an initial non-binding, no-obligation discussion with you.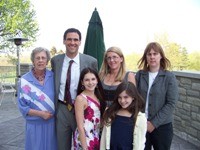 From Right Clockwise. Frances Nichols, Dave Nichols, Alice Nichols, Sue Colf, Katarina Nichols and Mary-Ammielle Nichols. The picture was taken in 2008 when Dave received The Rachael May Swaim Award.